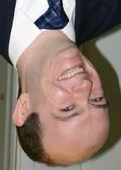 Willkommen auf dieser Seite! Ich heiße Andreas Klaus Hüttel, komme ursprünglich aus Ludwigshafen in der Pfalz und war lange Jahre Wahlmünchner. Nach drei Jahren in Delft hat es mich seit 2009 wieder in den Freistaat Bayern verschlagen, genauer gesagt in die historische Stadt Regensburg.
Auf diesen Seiten können Sie mehr über mich oder über meine Arbeit erfahren!

Welcome!! I'm Andreas Klaus Hüttel; I grew up in Ludwigshafen in the beautiful Pfalz (Palatinate?), and have lived for quite some time in Munich. After three years in Delft I moved back to Bavaria in 2009; to be more precise, to the historical city of Regensburg.
On these pages, you can learn a bit more about me or about my work.